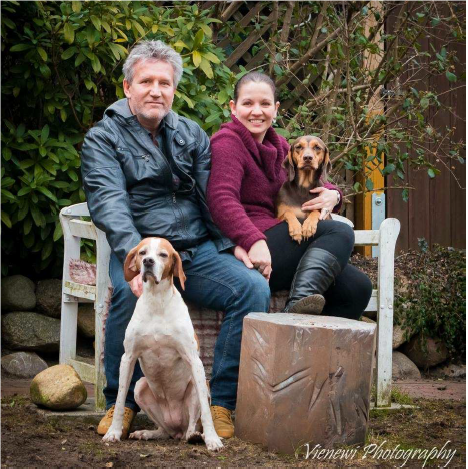 Last weekend, we had to say farewell to a very special female dog. Every dog is something special and each one is unique. However, some impress us more than others do.
Zouzou was such a dog. I met her in 2011, when I worked for Gut Aiderbichl Sanctuary in Salzburg. Michael Aufhauser, the founder of Gut Aiderbichl Sanctuary, received a call for help from a Greek friend. Daniela told us about Zouzou, which was under care with a veterinarian in Greece. On a coastal road, someone threw Zouzou out from a moving car and the following car drove over her. Zouzou dragged herself into the nearby sea with her last remaining strength and there animal lovers discovered her and alarmed the veterinarian.
This is a dreadful story that unfortunately you cannot tell in a better way, if you stick to the facts…
The veterinarian Marilena took the starving Zouzou home and nourished her for weeks until she reached the limits of her possibilities. Zouzou could not receive further help in Greece. No veterinarian could risk operating her and the alternative healing methods were strictly limited.
Michael Aufhauser decided at that time to pick up Zouzou personally and shortly thereafter travelled to Greece to pick her up and accompany her back to Austria.
He gave me a call when he first met Zouzou. His words were:
"Britta, you won't believe it! She is a second Pointi! She looks like Pointi, only in brown and white. You're going to love her!"
Until that time, I still had no idea how right he was going to be. He knew me back then already too well…
After Zouzou landed in Munich, we had decided to introduce her to a friendly Veterinary clinic on the way to Salzburg. After an hour waiting in front of the Veterinary clinic (there was a serious emergency), Michael Aufhauser phoned me up again. He told me about the long waiting and decided: "We cannot and don't want Zouzou to wait any longer. She is tired, confused and is losing patience. We are on our way home and bringing her to the office. Please prepare everything in Dieter's office for her for the night: a large, very soft bed on the ground, food and water. She should have it as nice as possible – you know what I mean, don't you?"
Of course, I knew what he meant. Therefore, my colleagues and I prepared everything: A great mattress as a bed with many cozy blankets, pillows on top, the greatest delicacies and naturally water for refreshment.
It took quite a while until the bus finally arrived and a distraught Zouzou "stumbled" off the bus, yes, almost fell. Michael even warned us that we should be careful, because she liked neither women nor female dogs. A fine situation we thought, when you consider that the office was full of women staff and female dogs. 😉
A first growl, a first showing of teeth and thus it was clear that Zouzou had a very strong will and character. She knew exactly what she wanted and what she did not.
She could not walk – not correctly. Or rather, she pulled her back part and dragged the hind legs behind. The feet on top were completely scraped and scarred; there was no muscle on the hind legs. Nevertheless, an iron will. I will never forget how she dragged herself before the stairs of the office, with an expression on her face, as if to say, one day I will run up these steps!
Could we all have guessed at that time that she would do just that after 12 weeks? Absolutely not! We would have declared everyone who would have said that as crazy. After several specialists had explained to us the consequences of surgery (fixation for at least three weeks), we knew that would have meant breaking Zouzou's will, which is not possible where a pointer is concerned, so we decided to try it without surgery.
I worked with Zouzou for almost 12 weeks, I first checked YouTube, how to do physiotherapy and muscle training for dogs and then practiced these with her. She had such an iron will. Only her will to survive (with a little help from me), made it possible that she was able run again after 12 weeks. She was still somewhat shaky, but she walked! Moreover, and that always better and better, until she could run again without anyone believing that she was once a paraplegic.
However, let us go back to the first night of Zouzou's arrival:
After she had eaten and drunken, our plan was to leave her for the night in the office, because she certainly must have been tired from the long trip and the many new impressions, so we thought.
One thing we had not reckoned with Zouzou!
Should we leave her alone? Definitely not!
She screamed, barked, cried, whined and started to take the office apart the moment we left. We could still hear her several hundred meters away. Therefore, I turned back together with Pointi. Pointi retreated right back into her basket on the first floor and I stayed downstairs with Zouzou.
At first, I was not feeling very comfortable, as I sat next to her on the mattress. I would call it a healthy mix of respect and uncertainty, because usually most dogs like me.
Zouzou instantly threw herself down next to me, snuggled up, crawled onto my lap and remained there. I was able to stroke her and she never left my side all night long. Twice, she wanted to go into the garden. The first time unnoticed by Pointi that had calmly fallen asleep on the first floor. However, the second time Pointi sneaked quietly downstairs where Zouzou stood, teeth flashing and growling.
I sat on the bottom step and spoke very quietly to Zouzou: "Young lady, this is not a good idea. Pointi was before you here and if you would like to stay here, you will have to get along with Pointi. It is so to speak the Grande Dame. You cannot go past it. So you would better get along…"
Some will think now that I am crazy, but many others will surely understand me. I am firmly convinced that Zouzou understood me that time – in whatever way – maybe it was "only" the sound of my voice, but she knew that she had to accept Pointi and she did. Not only that: from that night onwards, the two became the very best of girl friends and inseparable. Pointi gave to Zouzou the much-needed stability and was able to deal with her self-confident manner, because she learned over the years from Zouzou, to feel secure and at peace.

Both accompanied each other everywhere in the following years. That is to the vet, on trips, into the garden, on dog walks and exercises, the two never left each other's side.

Even when other dogs joined the pack, Zouzou was always the leader of the pack, but Pointi the "grey eminence".
When I think about it in retrospect, what joy of life Zouzou developed after she could walk again, you could also call her "the Forrest Gump of the pointer"! Zouzou ran and ran and ran. Moreover, she was unstoppable. The tail never stopped wagging – she was just so happy to be able to run again and did not need much more when she was outside. Birds, deer, and hares – everything was interesting for a short while and she gave chase occasionally, but that was not really important. Zouzou preferred to make her own rounds and to have the wind blowing around her nose.
Unfortunately, this preference was exactly the cause of her final fate. Her training resulted in an athlete's heart, which we discovered much too late. Less than two weeks ago, Zouzou suddenly and without warning collapsed on our morning dog run through the forest. She was briefly unconscious, scrambled quickly up again and then continued running. This happened again two days later. That scared me. Our veterinarian Patrick Niederhofer gave her a thorough checkup and it was quickly clear that it was the heart. It was a huge sports heart, which already put pressure on the trachea and the esophagus. That is edema in the heart and lungs caused by a heart failure. This was a shock for all of us!
From that day on she became increasingly worse and at that rapidly. Zouzou lost weight extremely fast, became incredibly affectionate and did not want to do her big rounds alone anymore. She stayed always by my side and the walks became shorter. Nevertheless, she fought you could see that. She was not yet ready to go. Stefan and I had promised to support her, as long as she wanted, but also, when needed to put a stop to her suffering.
We complied with every wish read off her eyes, caressed and cuddled with her and both of us gave what she needed at the particular moment. She spent hours with Stefan on the couch whilst he watched football and she enjoyed obstructing his view. She stayed in her basket under the table in the kitchen, when I worked or she cuddled with us, when we went to sleep in bed.

On top of all incontinence started. Zouzou had always been an incredibly clean dog. She cleaned herself up like a cat and her friends. One can imagine what it means to be incontinent for such a female dog – a nightmare!
The nightly pee rounds, up to eight times per night: Zouzou and I had a very intensive time together, but we mastered them – even if both of us sometimes fell asleep on our way. Nothing really mattered as long as it helped.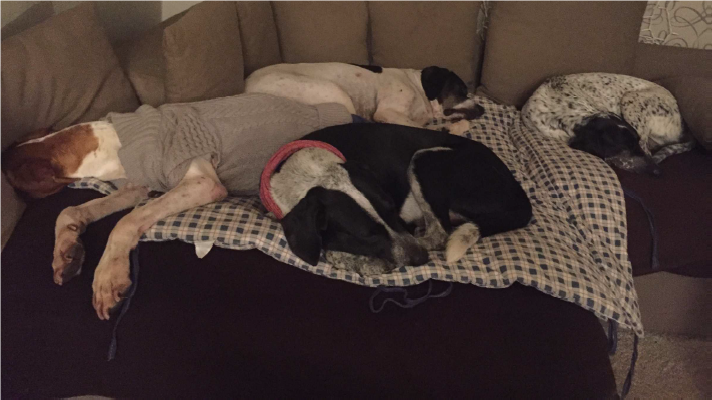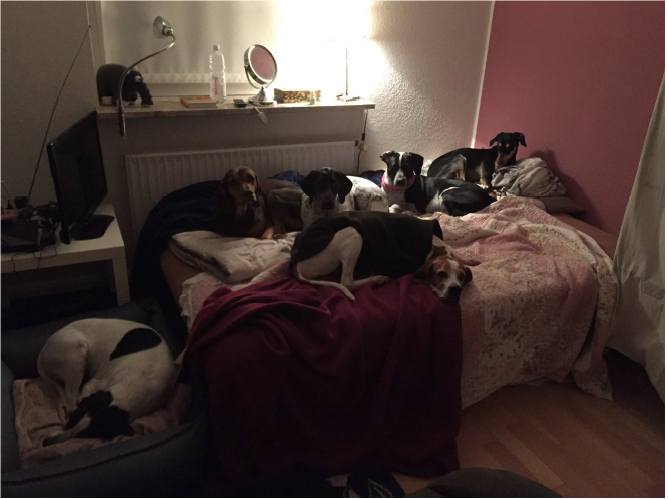 However, last Friday nothing helped anymore – something must have happened to her body – she suddenly did not want to eat any longer – even less than in the previous days. She lay down on the cold ground and drank gallons of water from her dog's paddling pool in the garden. Stefan and I decided to prepare her farewell and to celebrate another great Zouzou party with her favorite two- and four-legged friends. Thus, all the delicacies that you can imagine, a veterinarian whose injection she would hardly feel or notice – just like with Ali before. Zouzou and us at home together with her pack on two and four legs.
However, Zouzou never made it to her party in the evening. Even a strong overdose of sedatives could not stop her fighter's heart from beating. She needed help and got it. Around noon, we asked our veterinarian to come.
Pointi never left her side all morning – she was lying tightly close to her and when the veterinarian came, the loyalty and friendship to Zouzou prevailed.
Pointi overcame her fear of men and lay by Zouzou. Stefan, me, and Zouzou's pack, all were at her side when she fell asleep. She lay there peacefully, as if asleep…
The other dogs all needed their individual farewell and they got for that time until the next day, because they and I slept with Zouzou in the living room, before I accompanied Zouzou the next day on her last journey.
It is heartbreaking how the other dogs, Zouzou's friends, responded to her death. Our mentally disabled Sophie was irritated, like a child insecure and nudged it repeatedly. Cindy Lauper, our pubescent pointer-teen, was visibly sad and found it hard to come to terms with the situation. Pointi showed and still shows closeness to us and looks for affection like never before. Zaki, our three-legged pointer bitch, tries to ignore and suppress the situation. It avoided the farewell – it sniffed once at Zouzou, but it too has changed. Nothing is like it was some days ago.
Our foster dog Al luckily is unaware of the whole situation. He realizes that we are all sad and different at the moment, but that does not prevent him from being happy – he just loves his girlfriends.
I am alarmed about the kind of "relief", which I feel since the departure of Zouzou. My heart is heavy, it is missing a part… but it feels "right". Now we know that it was no longer shortly before 12, it was already 12 and we should not have taken the decision a moment later. That was my responsibility and I am grateful that I was able to avoid worse for Zouzou.
Zouzou will always be part of us – of all of us who had the pleasure to live with her. In addition, the people who were lucky to meet her will never forget her, because she touched their hearts – the last few days showed this to us in an impressive way. I am pleased from my heart, that this particular female dog also had special importance to the two- and four-legged, because she more than deserved it!
Britta Freitag,
08.11.2016